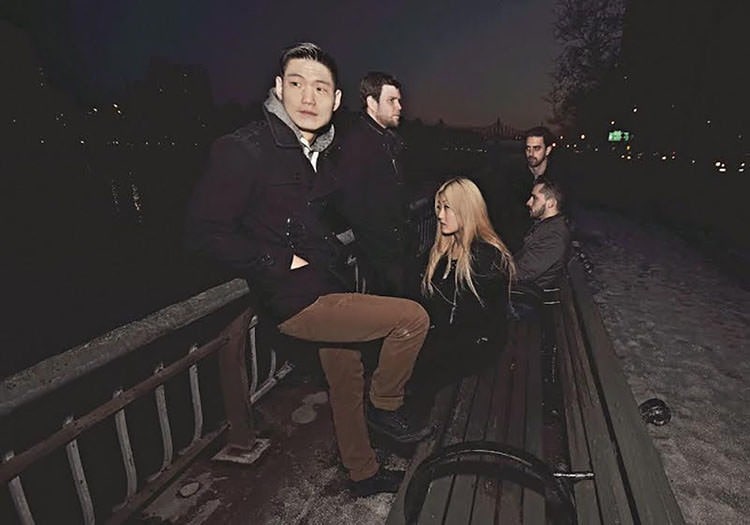 There's something to be said about playing music with people that you know and love, and OWEL's new EP, Every Good Boy is definitely the product of exactly that. Every Good Boy is the follow up to the New Jersey natives' 2013 self-titled release, and the sound on this EP is bigger and better than ever, with hints of catchy 60's pop, gorgeous vocal harmonies and a violin part on the title track that is sure to blow you away.
We had the chance to chat with vocalist, Jay Sakong about the new EP and OWEL's goals for the future. You can check out the full interview, as well as the band's single, "Every Good Boy Does Fine" below! Every Good Boy drops on April 28th.
Interview by Shannon Shumaker
Thanks for taking the time to chat with us! Can you tell us a little bit about OWEL? How did you guys come together?
I knew everyone from different points of my life. Jane since I was a kid, Ryan and Nunzio from high school, and I took an audio engineering course with Seamus. When I was thinking about putting together a group of people to play music with I just thought of the people that were already in my life that I thought would be fun to work with.
What was the music scene like growing up in New Jersey? Are there any locals or big name artists from your hometown that you draw inspiration or influence from?
I think I was pretty lucky to grow up in the Jersey scene. There were definitely some cringe-worthy moments, where the music scene seemed more like a bizarre prepubescent fashion show, but there were always awesome bands throughout it all. Dino Velvet comes to mind, and who wasn't a fan of Thursday at some point?
Can you tell us a little bit about your upcoming new EP, Every Good Boy? Was there anything specific you wanted to accomplish with it?
Initially, we were going to record another full length, but then ultimately decided it would be best to put out an EP first. We are hoping the EP can generate a bit of traction so that we could have better funding and resources for the full length.
How do you feel that the EP compares to your old material?
I'd say the pop songs are a bit poppier and the dark songs are a bit darker.
I just have to say, I absolutely love the way that the EP progresses, if that makes sense. There are these really quiet parts, and then next thing you know, the song explodes. What was the writing process like with these songs?
Thanks very much! We always like to play with dynamics a lot. I tend to think that a section of a song is only as good as the transition before it.
Do you write with a goal in mind, or do you prefer it to be more of a natural process?
I usually do have some goal in mind when writing. The good thing is that the song almost never turns out the way I had intended. The last track on the EP "All the World's Asleep" started out as a doowop song. Somewhere along the way it turned into a piano ballad.
Is there a specific song on Every Good Boy that you're really excited for people to hear? Do you have a favorite?
My mind always changes on this. I might feel a certain way about a song and then I'll feel completely differently when I'm listening to it with another person. I don't think I'm far enough removed from these songs to really have a proper opinion.
What, if anything, would you like fans to take away from Every Good Boy?
I would just like people to enjoy it.
How do you feel that you have grown as artists with this EP?
I just think we have a better idea of who we are as musicians and what we're willing to try.
Do you have any other plans in store for 2015 so far? What's next for OWEL?
We are in the process of building a solid team around us. I'm really happy so far with the people we've been working with. We are having our release show at the Lincoln Center on April 30th so I'm pretty excited about that. We are also dropping the music video for "Every Good Boy Does Fine" soon. That was super fun to make and I'm really proud of how it came out. I'm not too certain on our plans for the rest of 2015, but as always, I'm mostly looking forward to working and writing on more songs.
Thanks for your time! Is there anything else you'd like to add?
Thanks for listening!
STAY SOCIAL WITH OWEL: Facebook | Twitter | Website
Pre-order Every Good Boy HERE