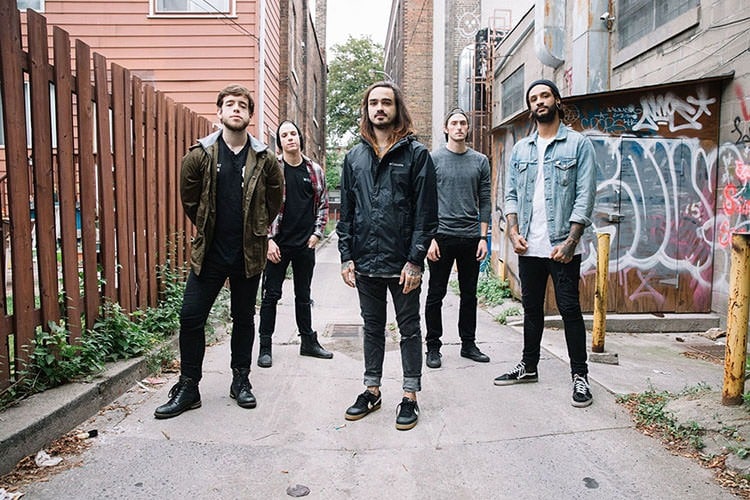 Two years after their last release, An Eye for an Eye, Like Moths To Flames have made their triumphant return with their new album, The Dying Things We Live For. But as vocalist Chris Roetter puts it, comparing their 2013 release and the new album is virtually impossible. After a few member changes and two years worth of writing and touring, Like Moths To Flames have emerged with more drive than ever and a fresh new release to show for it.
Read the entire interview with Roetter below, and pick up The Dying Things We Live For now!
Interview by Shannon Shumaker
You guys just dropped your new album, The Dying Things We Live For. How excited are you to finally have it our for fans to hear? 
Aside from the few singles we put out at the beginning of the year, we hadn't done an album for about two years. We were excited for the fans to hear the new direction and give them something that we felt was our best work. Having a few member changes in between albums kind of gave us the opportunity to write things a little different than we'd done in the past.
What was the driving force behind this album? Was there anything you really wanted to accomplish with it?
We wanted to show the fans that, "We're still here!" kinda of thing. I feel like some people might have forgotten about us or just overlooked us in the mix of the multiple bands that are putting out albums every year. I feel like it's important to not over saturate your band. If you release too much music too soon, you don't give people time to actually dive into the content.
Were there any messages you wanted to convey or stories you wanted to tell?
The last few years have been pretty hard for me. Lost a few people that were very important to me. There were just some things that happened that I never would have expected. Never could have planned for. The album for me was a way of growing through it all. Sometimes the hardest things you go through can end up making you a stronger person. I'd like to think this album explains a lot of the last few years of my life.
How do you feel The Dying Things We Live For compares to An Eye For An Eye or your previous material? How do you think you've grown with this record?
I think you have to look at them as two completely different albums. They were different eras of the band. We were trying to accomplish something different with each one. With TDTWLF, we wanted to have songs that represented the band, not any of the filler songs that some albums have. We didn't want the unnecessary ballads, the over the top rock songs. I think it helped us grow into a sound that we thought was fitting for our band. There was a lot more focus on the guitar work, the structure of the songs. There was just a lot more thought put into the album.
What would you like listeners to be able to take away from The Dying Things We Live For?
I think you have to listen to the album as a whole and if you don't get it the first time, listen to it again. I think that the content is definitely worth a few listens, if not something you can carry with you for the next few years. The songs are very relatable and I do hope that people can really take the time to feel what the songs are about.
You guys have done some really cool things with this release, like recruiting fans to be in a music video to giving away your lyric sheets. How important is that connection with your fans to you? 
As I get older, I realize more and more each day how important the fans are to the band and the music scene in general. Without people listening to our band and other bands, the scene wouldn't have a chance to grow. We are on the edge of having our scene break into the mainstream scene, some would say it's already happened. I wrote the new album in hopes that people would be able to relate to the songs a bit more than they had in the past.  I want people to come up and share there stories about how they connect with the songs. At the end of the day, thats what keeps me doing music.
You also just wrapped up your tour with All That Remains and We Came As Romans and are finishing up some dates with Northlane in Australia. What has been the best part of these shows?
Getting to see places away from home would definitely be the cherry on top of it all. On tour you can kind of treat every day like a mini vacation.
Now that the year is winding down, what has been your most memorable or exciting experience in 2015?
I think getting the album finished would be the most exciting experience of the year. It's always stressful planning an album release and the things that will come after. The feeling of seeing it all finished and on a shelf at the store or online is just something else. Definitely makes the stress of getting it done worth it.
Do you have any big plans coming up for the end of the year or beginning of 2016?
Just going to close out the year with the Northlane Australia run. It's been a busy year for us and we want to devote some time to our families for the holidays. Next year is already shaping up to be busier than this year so we are taking some time to recoup and get ready!
STAY CONNECTED WITH LIKE MOTHS TO FLAMES: Facebook | Twitter