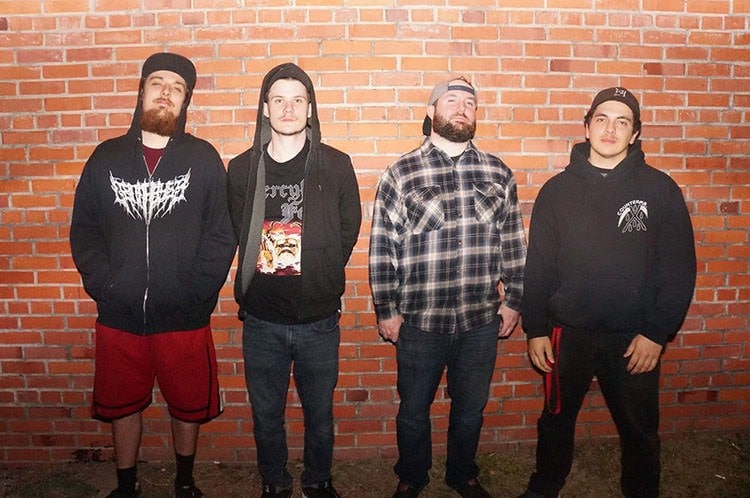 Detroit's up and coming hardcore quartet, Turncoat just celebrated the release of their explosive new self-titled EP. Since their debut in 2014, Turncoat has been hard at work creating a sound all their own, mixing a 80's punk, hardcore and thrash, and the new six song EP is a product of that. With plans to his the road in support of the new release this summer, Turncoat have hit the ground running, and with good reason. Keep an eye on their Facebook page for tour announcements and updates, and read the interview below.
Interview by Dom Vigil
Can you tell us a little bit about Turncoat for any readers who may not be familiar? 
Hey! Turncoat is a 4 piece hardcore band from the Metro Detroit Michigan on Eulogy Records formed in the later portion of 2014.
You just celebrated the release of your self-titled EP. Did you have any major goals you wanted to accomplish, it being your debut EP?
We are just excited to finally have our music out there and for people to be able to experience the music in their own way on their own time. We just want to get it out to as many people as we can.
How do you feel you've grown with the writing and recording of the EP?
I think we have stayed the same throughout the writing process and finishing the EP in the studio. We came into this the same way we are pushing it now.
Before the EP dropped, you released a couple of songs, including "Pushing Through" – can you tell us a little about the song?
"Pushing Through" was inspired while I spent several months living out of a back pack, couch surfing with no money and no job. The song is meant to remind anyone person in that position to keep your head down and your eyes up. The way others see you does not define you. What defines you is the fire in you, the drive you have to make something of yourself and that home and happiness are all within.
Are there any tracks that you're particularly excited for listeners to hear?
"American Dream" would be one of my top picks for the "b" sides of the EP.
On top of the EP release, do you have any other big plans lined up for this summer? Could we expect to see you out on the road soon?
We will be back out on the road in the next month or so a couple of bigger bands you've heard of and a couple of smaller ones you may not have. Pay attention to all of those things are going to be released in the next coming weeks so keep your eye out on our Facebook page!
Thank you for taking the time to chat with us! Is there anything else you'd like to add?
Thanks for having us, we hope you're going to like our Facebook page and make sure to check out our bandcamp for our debut EP or check it out at Eulogyrecordings.com! Make sure you go pick that up and check out our bundles that are available. Support local music!