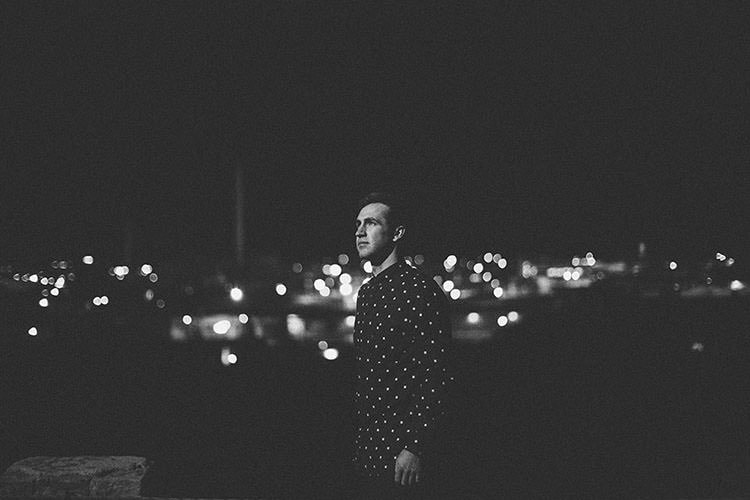 Driven by a strong work ethic instilled in him from a young age while living on his family's ranch in Colorado, Los Angeles transplant Landon Williams is hard at work making a name for himself as an indie-pop artist. With his successful single and music video for "Tonight" out now, Williams is looking toward the future, which includes the upcoming release of his brand new song, "See What I See" out tomorrow, June 23rd. Watch the video for "Tonight" now and read more about Williams below!
Interview by Dom Vigil
Can you tell us a little bit about yourself for any readers who may not be familiar?
Yeah, I was born and raised in Southern Colorado, now I'm based in LA. I got into music at a really young age, I was immersed in it whether if it was my dad playing Albert King/ Merle Haggard records or my mom and I jamming out to Cher. There were no boundaries, I love it all. I picked up the guitar when I was 11 and played lead guitar in the same band until I graduated high school. After that I decided to do my own thing. I started taking vocals lessons and writing my own songs. I just wanted to make great music and not deal with any peripheral drama. As I was developing my sound I got a gig with Michael Martin Murphey being his guitar tech and road manager. Through that gig I met a lot of producer/session guys from Nashville and eventually cut my first EP with Ryan Murphey in Nashville at Omni Studios. At that time I had a John Mayer/Jack Johnson vibe because guitar was certainly my strong suit. Since then my voice has improved a lot, therefore allowing me to explore other genre's I couldn't have pulled off otherwise. Since then I have teamed up with PJ Bianco who has produced Nick Jonas, Demi Lovato, LP etc. That's been my biggest breakthrough thus far. Finding someone who I can trust and who has sold millions and millions of records. PJ's my boy!
What first made you want to become involved in music and when was it that you decided that it was something that you wanted to pursue?
I don't know, its hard to say, but I remember walking in to a Pawn Shop one day and seeing these electric guitars for sale and I was completely engrossed by them. I went home that day and told my Mom I had to have an electric guitar for Christmas.
How do you feel your upbringing in Colorado and the music scene influenced you as an artist?
That's a good question because I was raised on my family's ranch but I play indie/pop that has a lot of hip hop influence… So it really didn't influence my sound or vision, I was always doing my own thing. But it certainly influenced me ethically, which I feel has created a lot opportunities for me musically. Living on a ranch, you grow up quicker than most kids because there are a lot of responsibilities you have to carry out from a young age. I would get home from my football game and have to put up hay the next morning at 6am, when other kids got to sleep in. My dad, brother and all of my uncles are self-employed, so that kind of influence has instilled a lot of business and strategy into my artistic vision.
You recently released the music video for your song, "Tonight." Can you tell us about the track?
Yeah, I wrote the guitar riff and drum idea to 'Tonight' like four years ago and could never figure out what I wanted to do with it melodically. So one day my buddy Joel brought over his tenor sax and we came up with that Prince inspired verse melody. We just continued to build the track, eventually writing the chorus with Sharon Wade (Diana Ross, Aretha Franklin). At the time I had this PR company in Burbank who hooked me up with PJ Bianco. That was my first time working with a producer who has had a lot of success in the industry. It didn't take long to realize why.
What was the vision behind the video and how was filming?
Before I knew any filmmakers, I was going to have to direct and produce my music videos alone. So I had this idea where I wanted to portray this "Napolean Dynamite" esque shitty existence. Not quite as on the nose but someone who cannot catch a break and one day they go home to fall asleep on the couch and some sort of dream sequence begins. Thankfully I didn't have to do it by myself. I literally have a long lost cousin who has lived in LA for 10 years that I never knew about… and one day I just reached out to him because he is an actor and filmmaker. We hit it off and he just took it from there. Hiring the film crew, scouting locations, doing all of the tedious things I knew nothing about. It really turned into his brainchild and we just continued to throw ideas at the wall until we came up with something that we felt was rad. Even though it was my first video I really enjoyed the process. Especially because I don't have a large budget for videos, it is fun just to see what kind of heist we can pull off with limited funds.
On top of the video for tonight, you're getting ready to release your new single, "See What I See." What would you like listeners to take away from the song? 
I guess I want them to see that "Tonight" didn't happen by mistake. The music video for "Tonight" really put a lot of things on hold, so people haven't heard any new material from me for like 11 months now. But I have the songs and people in place now to create a lot momentum and consistency over the next year or so.
Can we expect more new music soon after the release of "See What I See"?
A lot music!
Do you have any other big plans for the rest of 2016?
Just focusing on making the best records I can and releasing each one with great strategy. There could be an EP release in the near future..
Thank you for taking the time to chat with us! Is there anything else you'd like to add?
You are welcome! Thank you very much for having me… and for supporting Colorado artists! Anyone reading this my new song "See What I See" comes out 6/23, make sure to check it! Thanks again! I hope to talk to you guys again soon 🙂
STAY CONNECTED WITH LANDON WILLIAMS: Facebook | Twitter | Website | Instagram