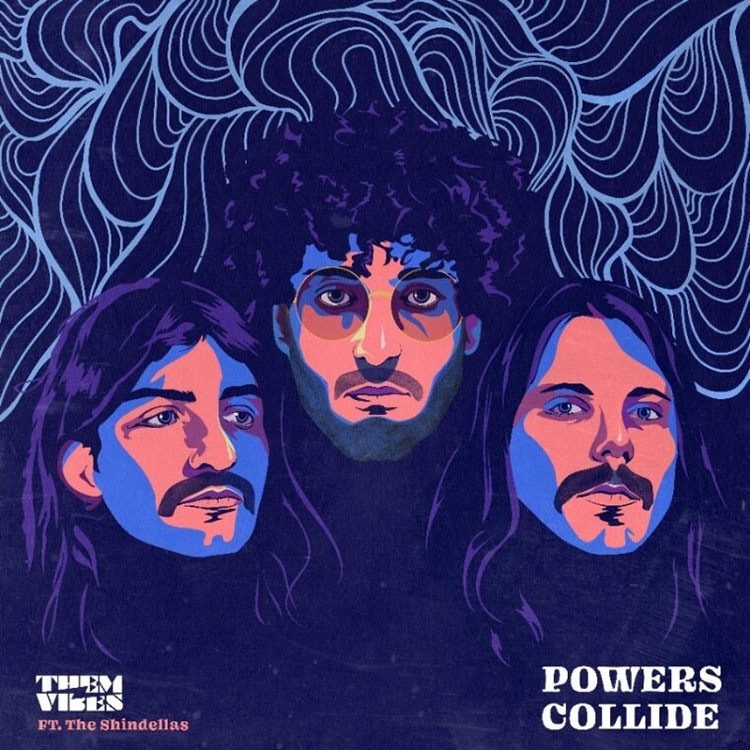 Retro rock-n-roll band Them Vibes have released an action-packed funk thriller, "Powers Collide". Drawing inspiration from Curtis Mayfield's Superfly soundtrack and featuring neo-soul group The Shindellas, the track never takes its foot off the gas.
"Powers Collide (co-written by Alex Haddad, Brother Love and Sarah Tomek) was inspired by the light and the dark found within all of us. Life is a series of action and reaction in constant perpetual motion, and it was grappling with this human chemistry that led us to write this song," said lead guitarist and co-founder Alex Haddad. "The musical bed in which this song lies is thematic to the whole EP: funky as all get out. We love Sly & Family Stone and Curtis Mayfield, so we wanted to take that 70's Oakland and Chicago style of funk and meld it to our own rock n roll sensibilities. The record is heavy on the groove with a message of love, dignity and respect. When it came time for background vocals there was only one group that came in mind, The Shindellas. They are soul incarnate. When they sang it immediately felt as if Tina, Etta, and Mavis were in the room."
"Powers Collide" is the second release from the bands forthcoming EP Why The Funk Not- out February 21st (produced by Bobby Holland). The first single released late last year, "Right On," features vocals from Maggie Rose and has garnered airplay on Nashville's indie/Triple A powerhouse WRLT Lightning 100, which ranked it #4 on its list of Top 200 Songs of the Year. 
Formed in East Nashville by Brother Love and guitarists Alex Haddad and Kyle Lewis, Them Vibes are a central part of Music City's thriving rock scene. The band has shared the stage with notable acts including Maggie Rose (whom they frequently tour and collaborate with), Joan Jett, Cage the Elephant, Cheap Trick, Lynyrd Skynyrd, The Flaming Lips, Marcus King Band, and Trey Anastasio. The band has also been featured on CBS's NCIS: LA, ABC's The Rookie, Showtime's Shameless, Amazon's Sneaky Pete, Netflix's The Ranch, a National T-Mobile campaign and more.
UPCOMING SHOWS
2/5/20 – Isla Mujeres, MX – Island Times Music Festival *
2/14/20 – Miami, FL to Bahamas – Sail Across The Sun Cruise by Sixthman
3/20/20 – Denver, CO – Lost Lakes Lounge ^
3/26/20 – Indianapolis, IN – HiFi ^
3/27/20 – Evanston, IL – Space ^
* with Trigger Hippy
^ with Maggie Rose