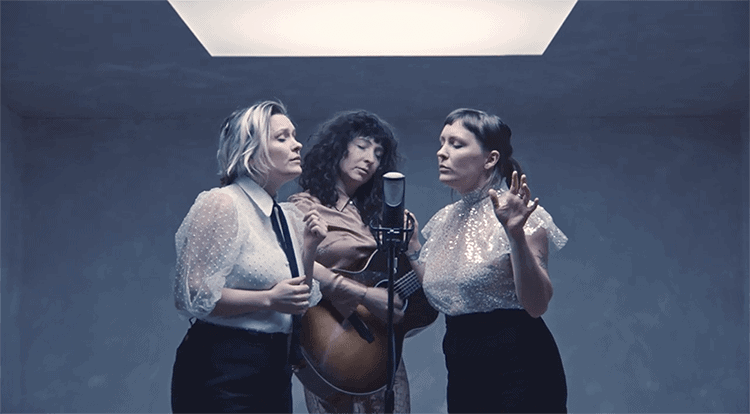 Vevo has released Joseph's live performances of "NYE" and new single, "Shivers." There is nothing like the sound of siblings singing together. Whether it's the Beach Boys or the Everly Brothers—or, more recently, First Aid Kit—absorbing the same breathing rhythms and speech patterns adds an element to vocal harmonies that can be pure magic. With the release of Good Luck, Kid, the mesmerizing, hypnotic sound of the trio known as Joseph—made up of sisters Allison, Meegan, and Natalie Closner—joins this elite company.
The Closners didn't actually start singing together when they were growing up in Oregon, the children of artistic parents (their dad was a jazz singer and drummer, their mom a theater teacher). Natalie was the performer, while Meegan and Allison stayed out of her lane, joining in for their mother's musical theater productions but otherwise avoiding the spotlight. When Natalie was in college, she began pursuing music more seriously. The summer before her senior year, she went to Nashville to check out the scene and work on her guitar playing and songwriting. A talk with a friend there set off a curious epiphany that convinced Natalie to ask her sisters to sing with her.
A transformation occurred when the Closners were in the process of recording their first album, Native Dreamer Kin. At the time, they were calling themselves Dearborn, but their producer felt that the name didn't fit the strength of the music. They went to visit their grandfather Jo, in the eastern Oregon town of Joseph. Allison made a playlist for the trip and called it "Joseph," which is what influenced the band's name.
"Once she said it, it just hit us all—that's what this is and who we are, these are the sounds of the land that we've lived on," says Natalie. "It's this crazy firecracker thing that happens—'Am I feeling something? Is anyone? What is this song, what does it do, which parts make the most sense?' It really is about connection with people, and we're so grateful we've gotten the chance to do that. This has been a totally wild journey, and we're constantly blown away with possibility of what could be."
"NYE" and "Shivers" are now streaming on all platforms. Keep up with exclusive content from artists all over the world on YouTube.com/Vevo.